Click HERE to see Marty's CV.
(Or click HERE if you'd like a pdf version.)
Pennsylvania National Quilt Extravaganza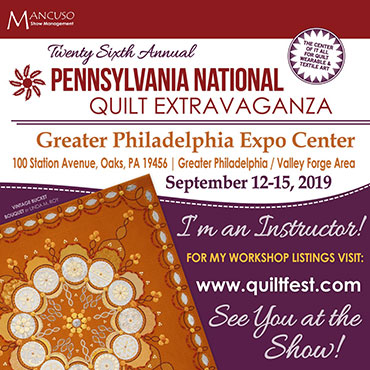 Lectures and Workshops
Click HERE for a downloadable brochure, which includes the cost of lectures and workshops.
Lectures
"Curate Your Own Style"
"Curate Your Own Style" is a lecture/trunk show about upcycled wearable art. I will be discussing: the ethics of recycling and sustainable fashion; shopping strategies; the slow-fashion movement; and the inspiration for my designs. A Q&A will follow my presentation. Marty-O's award-winning wearable art has appeared in Altered Couture magazine, Belle Armoire, and in the 2016 Excellence in Fiber on-line juried exhibition.
"Tattered Splendor: Ruined Quilt Couture"
"Tattered Splendor: Ruined Quilt Couture" is a lecture and slide presentation of my recent series of couture gowns and wearable art garments constructed out of ruined, beyond repair vintage quilts and other vintage linens and lace. I discuss the ethics of repurposing ruined vintage textiles, sourcing such textiles, and my inspiration for this series. Design decisions are discussed, as well as cleaning and stabilization techniques used on these fragile textiles. The "Tattered Splendor" garments were prominently featured in a special exhibit at the 2017 International Quilt festival in Houston. One of these gown was awarded Best of Show and Viewers' Choice at the Pacific International Quilt Festival, while another piece also won Best of Show at the Mid-Atlantic Quilt Festival.
Workshops
"Create Your Own Upcycled Style"
In this 6-hour workshop, you will learn to design and make a jacket the Marty-O way. Each student will bring a well-fitting jacket and taught various techniques of embellishment. Shortcuts and other "tricks of the trade" are demonstrated on the participants' jackets. The use of different trims and techniques for sewing on fussy textiles, such as bling, leather, pleather, fragile vintage doilies, and stretch fabrics, are demonstrated. I suggest ways to harvest clothing and other items to repurpose. Sharing of trims, and other upcycled textiles is encouraged. I will offer trims and embellishments for sale in the class. Come prepared to have fun. Class size: 6 to 8 students.
"Spatterdashes (Victorian Boot Covers)"
In this 6-hour workshop, students will learn to pattern and construct a creative set of spats for short or tall boots. Each student will bring to class a short or tall pair of flat or heeled boots as their base. Covers can be made out of upholstery fabrics, brocade or canvas. Each student will determine their design aesthetic, ranging from classic Victorian, steampunk, bohemian, to goth. Each student will make their own unique set of spats, and can keep their pattern. I encourage students to bring a variety of trims and embellishments, and to share or trade embellishments with their classmates. Class size: 6 to 10 students.
"Embellished Linen Circle Skirts"
This six-hour class will focus on repurposing a vintage linen tablecloth into a beautiful, wearable skirt. Techniques for hiding worn areas, torn areas, and enhancing the skirt with an uneven hemline are taught. Students must source their own vintage linen tablecloth. A cotton tablecloth works, but neither drapes well, nor is it comfortable to wear. A large round, square, or rectangular linen tablecloth all work. The length of the skirt will depend on each person's waistline and height. Embroidered tablecloths create beautiful skirts, but vintage white Double Damask Linens work well too. Estate sales often sell beautiful tablecloths for under ten dollars. I recommend dying plain white damask before class, as it brings out the damask designs beautifully. Class size: 6 to 8 students.
"Victorian Necklaces"
A choker-style necklace is made in this 3-hour class using a crisp silk as the base. Layers of fabric, and interesting embellishments are used to create a unique necklace. Students determine their design aesthetic ranging from "Plain-Jane" to Victorian, steam punk, or boho-gypsy. These make terrific gifts and are fun to personalize. Silk Dupioni or Silk Taffeta, and tartan plaids works well for this project. Kits can be purchased in class for $15. Class size: 6 to 20 students.
"Ruined Quilt Couture"
I give a three-hour demonstration of techniques to stabilize, repair, and design with tattered, ruined textiles to salvage and repurpose. Conservation and restoration are discussed, and students are invited to bring in ruined, otherwise non-repairable textile "treasures" for assessment and discussion. Samples of ruined textiles that were salvaged will be shown. Caveat: I am not a licensed conservator and only work with vintage textile that cannot be restored or conserved. Intact textiles, and historically significant textiles, should not be repurposed. Class size: Up to 25.
Classroom Requirements:
A comfortable, well-lit room with a large table for my serger and sewing machine and extension cords. An ironing station. A cutting table, raised height if possible. Table-space for each student to have a sewing machine and working space. A garment rack and hangers are useful. One dress form is essential, but two is preferable for all the classes with the exception of Victorian Necklaces where no dress form will be needed.
All Classes come with a supply list. Students need to be at least confident beginner sewers for these classes, and to bring their own sewing machine.
Guilds are responsible for transportation and accommodation fees.
Contact Marty to schedule a lecture or workshop, or for private workshops in the Southern California area.
marty.ornish@gmail.com
619.300.2251