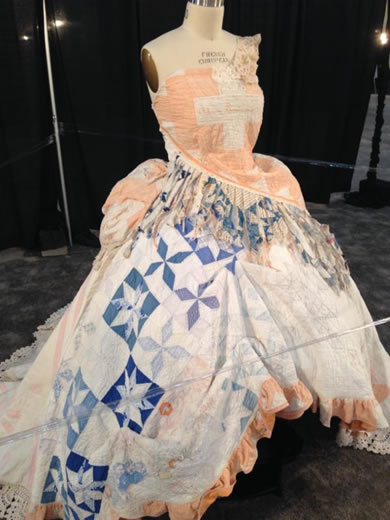 One of the perennial controversies in quilting has to do with the handling of vintage quilts, and whether it is ever anything but criminal to cut up and recycle them. Two popular and dramatic exhibits at International Quilt Festival this year repurposed vintage quilts in fascinating ways -- and made strong cases for doing so.
The above extravagant dress was made by artist Marty Ornish as part of her special exhibit called "Tattered Splendor." As a maker of art garments, Marty deconstructs clothing and other items to create magical costumes that mash up incongruous materials and historical periods. This particular dress was made of multiple quilts that were frayed, dismembered or discarded before they reached her. But still, the staff at Quilts Inc. insisted on adding a disclaimer in red to the bottom of her exhibit labels stating that it doesn't advocate the destruction of old quilts.
Partly to counter any negative responses to her re-use of vintage textiles in this way, Marty took to walking around her exhibit with an iPad-sized scrap of old quilt so shredded, you could see through it. "I did this to show people I was using quilts that are past restoring, and people seemed to understand," says Marty. "One woman called me the Quilt Whisperer for rescuing quilts that had been in closets and garages: one of the quilts I found had literally been thrown out by whomever owned it."
In addition to creating a beautiful object, Marty says her goal is this: "to help quilters incorporate damaged, partially finished and imperfect vintage textiles in whatever work they do, and to sew more sustainably." For more on Marty's work, go to her website.
The other exhibit in Houston that incorporated repurposed vintage quilts was "Twisted," sharing a name with Mary W. Kerr's recent book Twisted: Modern Quilts With a Vintage Twist. The truly spectacular quilts displayed from the book were designed and made by Mary, who incorporated just a few intact vintage blocks into each quilt. The quilts feel distinctly new because of the vast amount of "negative" space, so characteristic of modern quilts, and because each of the 20 long-arm experts chosen to do the machine quilting was asked to contribute to that modern spin.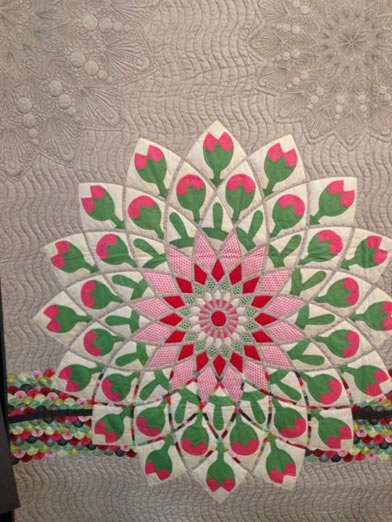 A noted historian and appraiser, Mary has been pushing the envelope for some time on ways to give old quilts a new life. An earlier exhibit and book titled Quilt As Desired engendered outrage, because Mary was taking perfectly good vintage quilt tops and then having them quilted by hired long-arm quilters. "The thinking was if you machine quilt a vintage top, you have destroyed its value: this is a view held by many in the communities of historians and appraisers," she says. "But now we are getting some push back on that view: if the top is yours, you can do whatever you want. I bought each top for less than $50, and many were gifted to me. I think having these quilts go back into the trunks is the worst thing that can happen. Let's enjoy them!"
Eventually her arguments persuaded many, and the Quilt As Desired exhibit continues to travel: currently, it's at the National Quilt Museum in Paducah. Mary says what inspired the latest book was simple: as a collector and historian, she was finding that a lot of pristine vintage quilts had already been picked through and processed in one way or another. "I kept finding smaller and smaller fragments of quilts and that inspired this exhibit. Nothing was destroyed: even with just 4 blocks of a quilt left, I wanted to make something beautiful. And I try to preserve the stories with the remnants."
I strongly urge you to try to see this exquisite show as it travels. Mary says she was overwhelmed by the positive responses at Houston and expects the Twisted quilts to appear in many venues. The show will be at the New England Quilt Museum from May through July and she is working on dates with AQS, Road to California, and the National Quilt Museum, among others. Her website will be updated soon to reflect the Twisted tour, but you can order the book there now. This isn't a how-to book, but one that shows all the luscious quilts, shares her process and provides tips on working with vintage quilts.
"I hope this will inspire people and give them permission to play with things," Mary told me in an interview. "Ignore the quilt police!" Finally, I urge you to read this blog post from prominent quilt collector Bill Volckening about how to decide whether a quilt is a "saver" or a "cutter."